See on Scoop.it – Learning, Education, and Neuroscience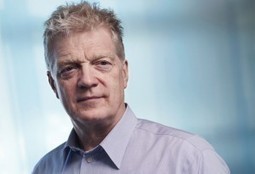 Interview with Tom Ashbrook
How education is jeopardizing creativity:
"I'm not blaming teachers for it. I'm not blaming school principals for it. I've worked in education my whole life and I work a lot with teachers in schools and I know they're as concerned about this as I am and everbody else is. I think it's to do with this culture of standardization. There is a view that the way we improve education is to make it more and more standardized. Many people in schools — particularly in this country, I'd say — are laboring under this sort of dead culture of continuous testing. And one of the results of it has been to reduce the curriculum, to narrow it. So a lot of the things that people, who may be be in their 40s or 50s, will remember from school — things like band and orchestra, putting on plays, lots of interesting after school activities — a lot of those things are being pushed out by this culture of standardized testing. It's all done with an honorable purpose, I think — the intention is to raise standards, but the irony is it's really not doing it. And more and more kids are pulling out of school. There's more and more teachers, I feel, demoralized by it. And I know parents are very concerned about it too."
"While Shanghai is trying to be like America, America is trying to be more like China."
Pamela D Lloyd's insight:
The primary focus of education should be helping children to reach their full potential. That can't be done through standardization, because kids don't come in standard packages; it can only happen when we recognize that we need to meet each child's needs.
Standards have their place, but only with respect to the qualitiy of what we offer to children and in ensuring that every child is offered the best possible education. Standards that restrict children's opportunities and growth need to be eliminated and replaced with an approach that enriches the educational environment for everyone.
See on onpoint.wbur.org